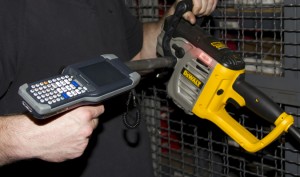 Tool Tracking
It's not the most glamorous job in the world, but then again, it's certainly isn't the worst. Tool tracking – a dirty job, but someone has to do it; otherwise, jobs run behind schedule, machines break and production shuts down, or worse. The old-fashioned, yet tried and true method to track tools, is to hunt them down and hope you find them. GigaTrak offers an alternative to tool tracking that can make your life a whole lot simpler. We take tool tracking to a level of efficiency that not only makes tracking tools simpler, but also makes the users more accountable for the use and care of the tools they're given.
Tool Tracking Software
GigaTrak's Tool Tracking Software is available in 3 versions – Tool Tracking Basic, Tool Tracking Pro, and Tool Tracking Contractor. Designed with the user in mind without a lot of unnecessary and gimmicky features would seldom be used, we keep it simple. We don't limit the number of tools you can track and we don't charge a yearly fee for the privilege of using our tool tracking product. We simply offer a tool tracking software that lets users enter data easily, check tools in, check tools out, and transfer tools directly to another employee or out to a job site. Then, we provide spiffy reporting features- PDF, hardcopy or email – that anyone can access as long as they have the appropriate security credentials.
Tool Tracking Systems
System. The dictionary defines a system as "a group of functionally interacting, interdependent items that form a complex whole. So, it would be a given that a tool tracking system would be "a group of functionality interacting software, hardware, an engineering components bonded together to form a complex solution to a simple problem"? Well, no, and it just goes to show that literal translations can be off-putting. At GigaTrakwe view Tool Tracking Systems as a way to get a businesses tool inventory under managed control; and, it's not a complex solution. In fact, we see the tool tracking problem itself as complex, but our solution as simple. We provide the Tool Tracking Software, the tool tracking hardware (barcode scanners & barcode printers), and engineering support. GigaTrak's Tool Tracking Software is easy to use. GigaTrak's Tool Tracking Barcode hardware is easy to use. And, last, but not least, GigaTrak's software engineers are the best. The ROI on a good tool tracking system can easily be less than 3 months, so see for yourself how GigaTrak defines "tool tracking system."
Tool Tracking Solutions
Again, with the definitions, but we couldn't resist. The dictionary defines "solution" as "a homogeneous mixture of 2 or more substances"," the act of solving a problem", or, and we all love complicated math, as "the answer itself". Well, again, at Gigatrak, we have found a way of combining most of the definitions into a single point of conversion. One of our definition of "solution" is –GigaTrak's Tool Tracking Solution (which we fondly refer to as TTS). It solves the thorny issue of tool tracking. We've developed a tool tracking software product, 3 in fact, to meet most basic tool tracking requirements – answering these questions- what is it?, where is it?, who has it?, who used it before?, what's been done to it? To the mixture, we add a dollop of barcode label hardware, and a splash of engineering support (because a splash is all it takes). The end result is tool tracking problem "solved" with GigaTrak's TTS, Tool Tracking Solution. Solutions available in: Basic Tool Tracking Solution, Professional Tool Tracking Solution, and Contractor Tool Tracking Solution -with sides of barcode label and barcode scanning options.
Call us today to speak with an experienced GigaTrak representative at 833-444-2872 to discuss your tool tracking needs.