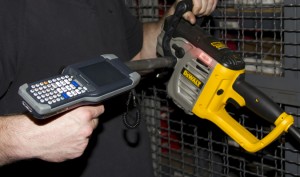 Track Tools
If you're a mechanic, contractor or manufacturere, you know how important it is to track tools. Tracking your tools can be difficult withouth the right tool tracking software in place. GigaTrak's Tool Track software allows you to control and oversee your tools from your desk or anywhere you have an access to your database. Using GigaTrak's Tool Track, you can schedule tool planned maintenance based on dates or cycle run, track tools, track machines and any other equipment. Reporting function is another essential feature that you would need in tool tracking.
Track Tools Software
A good tool tracking software is the software that everyone can use to provide a pleasant tool track experience. We often face very dissatisfied clients who spent too much money and time for other vendors unsuitable software. Too often, the unsuitable software compels the user to struggle with the product, after which he or she ends up not using the software, and returning to the old, inefficient practice. GigaTrak offers a great Tool Tracking Software that anyone can use without the frustration. We once worked with a customer in a tool crib that had no windows, heating or cooling system. When it's cold or hot out, it gets very transparent to the tool crib guy. He's not going to deal with any complicated twaddle software when he is drenched in his own sweat, or only thing that's keeping him warm is the heat from cup of coffee. GigaTrak made his Tool Track experience easier, more pleasing.
Track Tools Systems
GigaTrak offers the most rewarding Tool Tracking System that can aid you in your Tool Tracking efforts. If you were tracking your tools by paper and pen, or even by Excel spreadsheets, you will find GigaTrak's Tool Tracking System is an extremely lucrative way to make Tool Tracking easy and most efficient. Everyone on the GigaTrak team has been out in the field, and worked with the staff that will be using the Tool Tracking System on daily basis. We offer the Tool Tracking System that really works, and will continue to work after the initial implementation.
Track Tools Solutions
A complete Tool Tracking Solution is the most ideal way for you to have an effortless Tool Tracking experience. With GigaTrak's easy to use and install software, and hardware that has been handpicked and tested on the job site by our GigaTrak staff, you will be assured that you are in for a smooth ride to a successful implementation. We understand our clients budgets, and expectations of our Tool Tracking Solutions. We have the broad product knowledge and rich field experience to select the ideal solution that works for users with various computer skills. With our Tool Track Solution, you don't have to be a computer genius or IT personnel to operate the software and hardware.