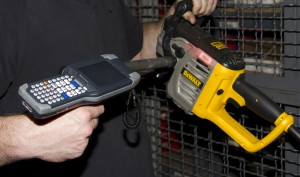 Tool Tracking Inventory
Inventory tracking, is not only critical for a company's bottom line, but it's also crucial to maximizing production and job efficiency.   If your business uses hand tools, you need GigaTrak tool inventory software.  Accurate, up-to-date tool inventory software is critical to business success. Understanding the different features and capabilities available to you is critical to your implementations success. Our software delivers the critical capabilities without tying up operating capacity in unused features
GigaTrak tool inventory software tracks and records all of the critical information about the tools your company depends on for day-to-day operations. GigaTrak tool inventory software is a simple to use database for businesses, contractors, schools, institutions, and municipalities that want to track tools and equipment. Our software gives you an easy way to catalogue, organize, and track all your equipment and tool inventory
Equipment Inventory Software
Managing equipment inventory and justifying equipment costs are more important today than they ever have been. Companies expect data on usage, maintenance and inventory. Equipment inventory information has to be easy to access and simple to manage. At Gigatrak, we have developed a turnkey solution that allows our users simple point, shoot and click operations. These simple interactions build and track your equipment inventory database. It is that easy.
If you are looking to easily manage your equipment inventory or tool crib try us today. It is a simple download to your machine. Then you can start building your equipment inventory database. Call us today, 877.204.9237
If you want to know what tools are where, without having to constantly check, check out GigaTrak tool inventory software. Our inventory software solution allows the user to keep track of everything and quickly search for tools by category, user, and job site. GigaTrak tool inventory software is quick and easy to implement. Stop losing money and user GigaTrak tool inventory software.
Want to learn more? We fit your tool tracking software needs.